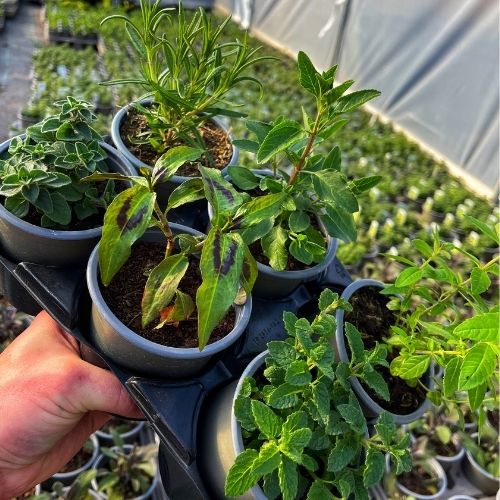 Foodie Adventure Herb Collection
Regular price
$24.00
/
Tax included.
Shipping
calculated at checkout.
---
What do you get?
A specially selected collection of six plants for those wanting to experiment and try exciting new flavours.  Think of this collection like a foodie taster menu.  A chance to explore new flavours and new dishes.  To boldly go where few foodies have been before.
The flavours you are going to be enjoying:
NEW Basil Mint  - this is a variety that truly solves a problem.  It grows like Mint and when cooked tastes like Basil. How cool is that?  
Oregano 'Hot n Spicy'  - in this variety the classic flavour of Greek Oregano also has a spicy kick.  Perfect for adding to fajita dishes or home made pizza.
Orange Thyme – truly one of the most beautiful flavours that we grow. A subtle hint of citrus and a strong orange aroma will contribute to some amazing foodie creations.
Winter Savory - hardy and evergreen with a beautiful peppery flavor that is perfect for soups and stews.
Strawberry Mint - this is certainly a fun and fruity variety of mint!  Great on deserts.  Strawberry mojito anyone? 
BBQ Rosemary - delicious variety of Rosemary with a smoky hint. Perfect for adding to meats or smoked vegetable dishes. 
How big are the plants?
All herbs are supplied in 9cm pots. They will be freshly picked for your order. The condition of the plants is our primary concern when fulfilling your order. The foliage will differ in size throughout the season and may be clipped prior to dispatch. The herbs are not soft grown and have spent time in unheated conditions. They are a product designed not just to last a few days but to be grown on by yourselves and supply flavour for months to come.