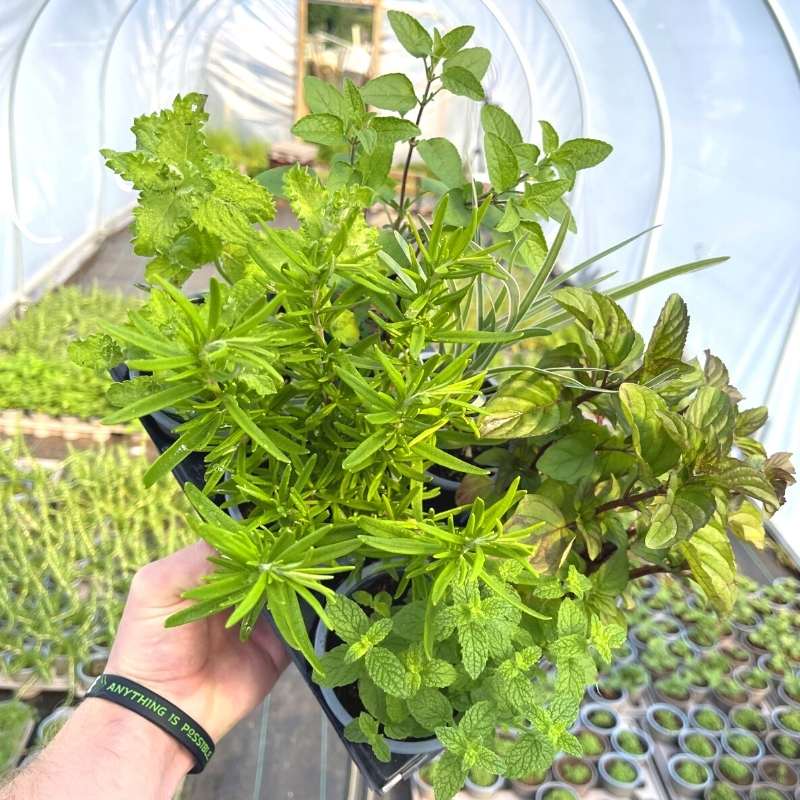 Fresh Flavours of Summer Herbs
Regular price
$23.00
/
Tax included.
Shipping
calculated at checkout.
---


What do you get?
A rotating specially selected collection of six varieties of herb - all of which pack a flavour, splash of colour (or both) that will enhance your summer.
These varieties capture the very best of the summer season for us.  They are full of colour, flavour and life. 
The flavours you are going to be enjoying:
Strawberry Mint - such a versatile summer flavour.  Great for using as a topping on deserts, adding to a cold drink or a cocktail.  You might enjoy simply appreciating the aroma from this plant on a summer evening.  It really is special.    
Creeping Red Thyme  - this provides a beautiful splash of colour each summer loved by both us and the local bee population.  It's great to use as a light summer seasoning too.
Society Garlic - this is a plant that seems like it developed purely to furnish the summer BBQ with flavour.  The foliage contains a strong garlic flavour.  Just wait until you smell this cooking! 
BBQ Rosemary -  traditional Rosemary flavour but with an added 'woodsmoke' flavour.  This is just as delicious as it sounds.  We adore Rosemary, but BBQ Rosemary is just amazing.  Perfect for summer cooking.  
Chocolate Mint - we had to include this one.  It's simply wonderful as a topping on iced cream!
Corsican Mint  - this one is a bit special.  Low growing and carpet forming Mint.  It is seriously strong in flavour. We can't get enough of it.
How big are the plants?
All herbs are supplied in 9cm pots. They will be freshly picked for your order. The condition of the plants is our primary concern when fulfilling your order. The foliage will differ in size throughout the season and may be clipped prior to dispatch. The herbs are not soft grown and have spent time in unheated conditions. They are a product designed not just to last a few days but to be grown on by yourselves and supply flavour for months to come.