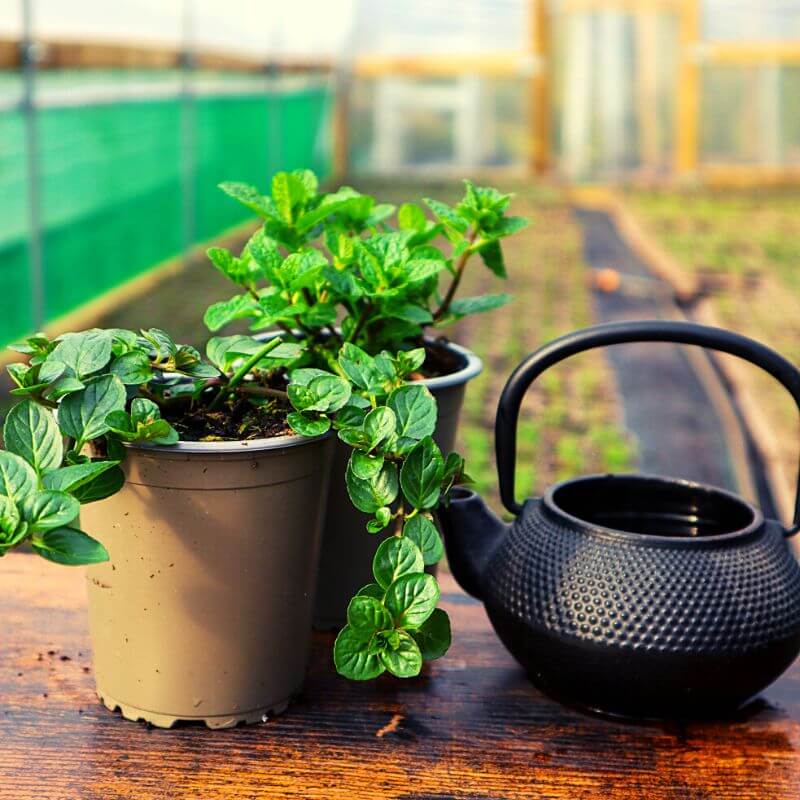 Herbal Tea Collection
Regular price
$24.00
/
Tax included.
Shipping
calculated at checkout.
---


What do you get?
A specially selected collection of six plants - our favourites to make herbal tea with.
The pace of life seems to get quicker by the second.  We constantly receive updates on smartphones, we watch tv while browsing the web on mobile devices, we run for trains and talk as we walk.  In this hectic world, it's nice to be able to harvest your own flavour and take a moment for yourself.
That is what this carefully selected collection of plants does for us.  It will provide a moment of peace for you, and you can enjoy planting and nurturing these plants. You can plant them on into their new homes, firming the earth around them and watering them into place. You will have the chance to enjoy harvesting a few leaves in the morning before work and taking a moment to sip a delicious and naturally flavourful cup of herbal tea. The day might get more hectic but you can enjoy that moment, for you.
The flavours you are going to be enjoying:
Lemon Mint - this is a gorgeous, strong variety of Mint that is perfect for using to make mint tea on a summer morning.     
Lemon 'Curd' Thyme - a lovely variety of Thyme with a strong, sweet lemon flavour that shines through when used for your cup of tea!
Blackcurrant Sage - this variety of Sage has a wonderful Blackcurrant flavour that is so lovely and strong, it will make a fantastic fruity tea.
Moroccan Mint - THE best variety for mint tea. In our humble opinion. The flavour is delicious, deep and musky.
Tashkent Mint - perfect for a zingy cup of Mint tea, this variety will be sure to wake you up in the morning!
Roman Chamomile - a classic herbal tea flavour with lush, highly fragrant foliage.
  *We update the plants featured within this collection each week based on stock levels. This collection was last updated on 12/07/23.
How big are the plants?
All herbs are supplied in 9cm pots. They will be freshly picked for your order. The condition of the plants is our primary concern when fulfilling your order. The foliage will differ in size throughout the season and may be clipped prior to dispatch. The herbs are not soft grown and have spent time in unheated conditions. They are a product designed not just to last a few days but to be grown on by yourselves and supply flavour for months to come.