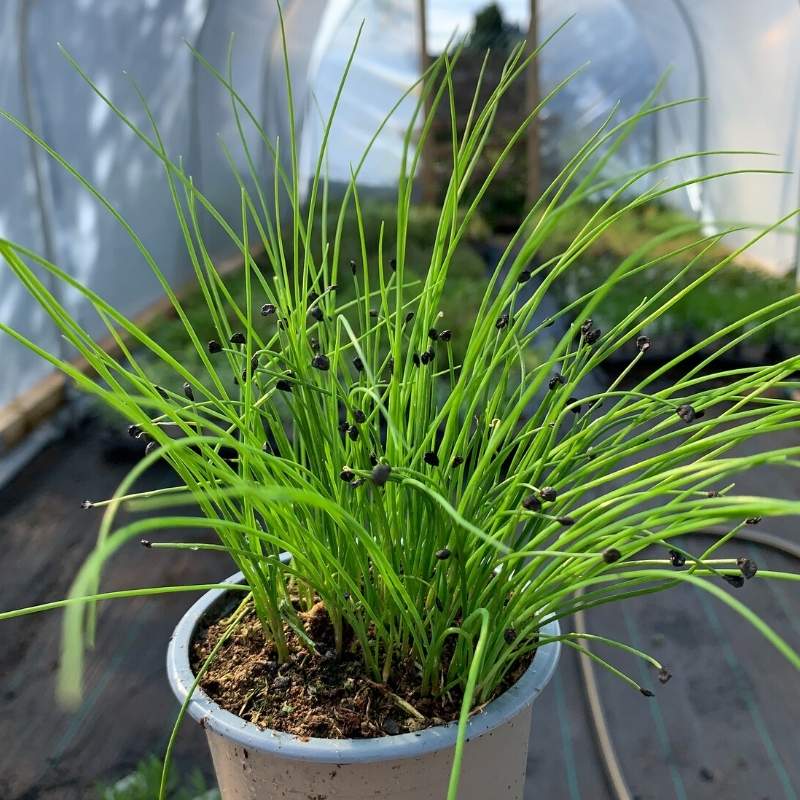 Garlic Chive Plants
Regular price
$6.00
/
Tax included.
Shipping
calculated at checkout.
---
This is a fantastic 'cut and come again' herb, which provides a delicious garlic flavour that you will love.  It is great for wildlife too, loved by butterflies and bees.  It flowers later in the season than traditional chives, so can provide some fantastic colour in your kitchen garden later into the season.  We can also strongly recommend this variety be used to make a lovely garlic butter! This plant also features in our Flavour Garden Herbs Collection.
Latin Name: Allium Tuberosum

Type: Hardy, Perennial

Soil Type: Fertile, free draining

Where should I plant this variety? Full sun/partial shade

How tall does it grow? Approx. 30-40cm

How much space does it need? Approx. 25-30cm

When does it flower? Long flowering, during the summer

Top care tips: Remove flowers after flowering to promote fresh healthy growth.

 


Today we are talking about "Allium Tuberosum" which suddenly sounds a lot more interesting when we call it Garlic Chives. We've been waiting to feature this plant for quite a while as it is a variety of living flavour that we absolutely adore. You know THAT plant that you discover and think everyone else should be raving about it? Well for us, THIS is it.

This is a herb that provides you with new, continuous and delicious flavour. The more you cut it, the more that it produces flavour for you - but what is that flavour? Garlic Chives still gives you the strong unmistakable flavour of onion and traditional Chives, but added to that is a subtle and useful hint of garlic. We find that this hint grows the more you cook it. Sometimes we add Garlic Chives to stir fry dishes - at first you can barely smell it and then slowly your kitchen becomes filled with the deep and delicious smell of garlic. You can also add Garlic Chives to salads, soups or stews. This is a flavour that will compliment your cooking without overpowering the dish.

The flowers are another major bonus with Garlic Chives. Unlike the pink flowers of traditional Chives, Garlic Chives produce gorgeous white flowers that look like feathery wispy pom-poms. They are edible and tasty but more importantly the bees and other wildlife love them. They seem to be in flower for ages and the bees just keep coming back for more!

Delivery options explained

 

Pre-order delivery option

From January to March, customers are able to pre-order herbs for delivery later in spring, to ensure that you receive the unusual varieties that you desire. We begin dispatch of pre-orders from late March, once all items in your order are available for dispatch in one delivery, as some varieties will be available a little later in the year than others. You will receive notification when this dispatch takes place along with tracking information but if you would like an estimated delivery date after placing your pre-order, please do not hesitate to contact us.

Order Now delivery option

From late March to autumn, herbs will be available for immediate dispatch subject to their availability. We dispatch our fresh potted herbs Monday-Wednesday each week to avoid postal delays over the weekend. We aim to dispatch all fresh herb orders in less than seven days, i.e. an order placed Thursday-Sunday would likely be dispatched the following Monday. Orders placed Monday-Tuesday, we would aim to dispatch by the Wednesday of that week.

If you have a specific dispatch date that you would like us to aim towards, please do not hesitate to let us know. We can't guarantee a particular date but will strive to do our best for you.

Dispatch information

All orders are dispatched via a next day courier, ensuring that your herbs reach you promptly and in good health. For customers in the Highlands and Channel Islands this is a 48-hour delivery service. (From 2021 onwards we are unable to ship to Northern Ireland.)

Please note that we do not offer a collection service. Our site is not suitable to receive visitors and this is a rule that we have to apply universally out of respect to our neighbours and family.

Packaging


We aim to reuse packaging as much as possible. Your herbs will be delivered in taupe recyclable pots. We are moving over to using plastic blister cell packaging which contains at least 90% recycled content and is itself 100% recyclable. These things are important to you and are important to us.



Customer satisfaction

Occasionally due to circumstances beyond our control, problems can arise. If you are not satisfied in the condition of your plants upon reaching you, please contact us as soon as possible providing pictures so that we can deal with your enquiry and feedback to our courier service. We will endeavour to ensure a resolution is reached that leaves you satisfied.