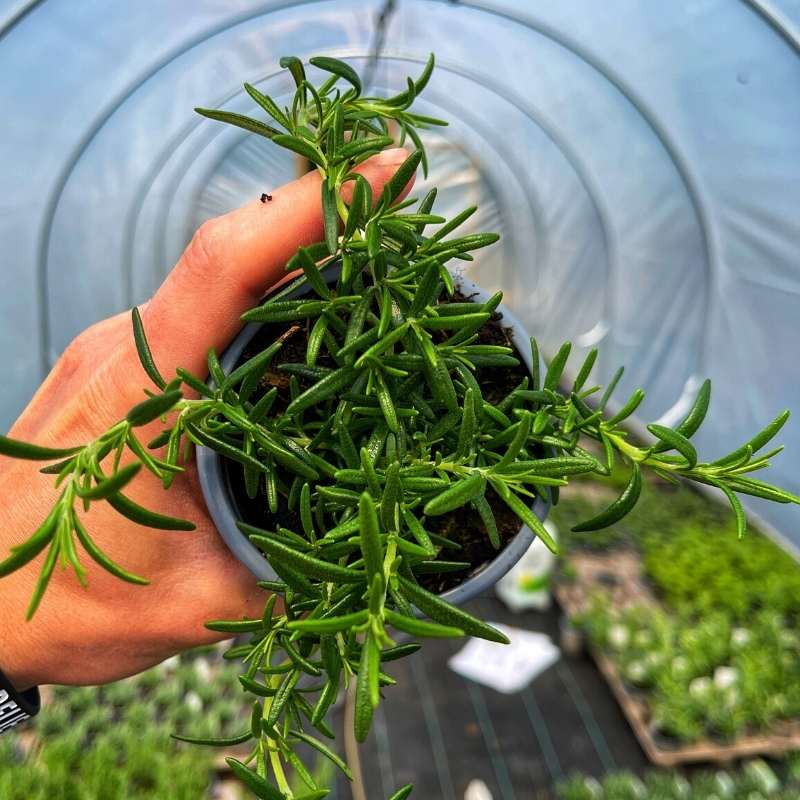 Trailing Rosemary Plants
Regular price
$6.00
/
Tax included.
Shipping
calculated at checkout.
---
Trailing Rosemary is a variety of Rosemary that grows at a low level, spilling and trailing.  It's a herb plant that provides so many possibilities for both gardeners and foodies.  This herb looks so attractive in a hanging basket alongside other herbs or ornamental bedding.  We also enjoy planting Trailing Rosemary plants to spill down over a raised bed or low wall.
          Latin Name: Rosmarinus officinalis prostratus
          Type: Evergreen, Perennial
          Soil Type: Free draining
          Where should I plant this variety? Full sun
          How tall does it grow? Approx 20-30cm
          How much space does it need? Approx 20-30cm
          When does it flower? Purple flowers during early summer
          Top care tips: Avoid waterlogged roots during the winter
This is a variety that will enjoy growing in a sunny and free-draining position.  When your Trailing Rosemary plants flower during spring and summer, they will look gorgeous when sunlight bathes the herb garden. If you're looking for another beautiful trailing plant then why not check out Indian Mint?
Trailing Rosemary provides the classic, deep and delicious flavour of Rosemary.  Chefs that we have worked with at food festivals have remarked that the flavour seems more succulent and tender from the slightly softer young stems of this plant.  The young trailing stems look really attractive as decoration atop a summer cocktail.  If you enjoy making herb-flavoured cocktails here are some other herbs you might enjoy!
If you're looking for a few other varieties of rosemary to add to your patch, then we'd recommend taking a look at the following: