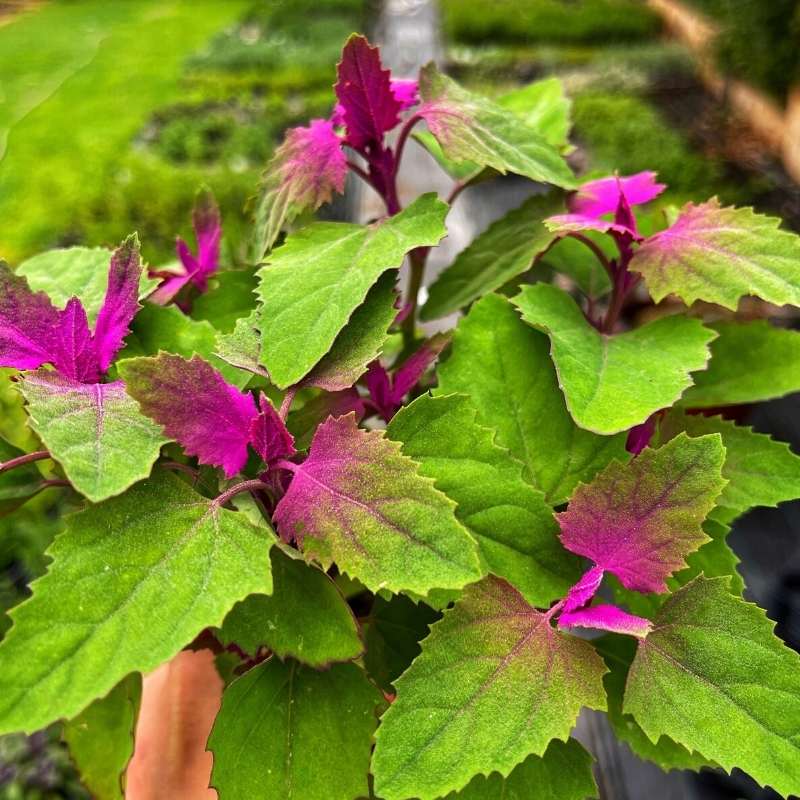 Tree Spinach Plants
Regular price
$5.00
/
Tax included.
Shipping
calculated at checkout.
---
Really fun variety.  Grows rapidly up to TWO METRES high!  The young leaves can be eaten raw in salad whereas the older leaves will require stir frying.  All the new growth has a fantastic pink colouring.  Really attractive plant.
Latin Name: Chenopodium giganteum

Type: Hardy annual

Soil Type: Rich soil

Where should I plant this variety? Full sun/shade

How tall does it grow? Approx. 2m

How much space does it need? Approx. 1m

When does it flower? Seed heads appear late in the season

Top care tips: Be mindful of the plant self-seeding - it is an "enthusiastic self seeder" (that is horticultural code for "bit of a thug"!)

 


 


Tree Spinach - Chenopodium giganteum. We always say that we think the Latin name for this plant sounds like the ring name for a wrestler!

Tree Spinach looks stunning with shocking, electric and outrageous colour in the middle of each new growth. We think that it is the jewel within any kitchen garden. You will not struggle to locate this plant within your garden as it grows to six feet tall within the growing season. Seriously. You can practically see it grow if you look long enough.

This plant needs a lot of space around it. It's perfect for planting in a raised bed or very large container. Imagine a large pot in your mind as you read this. And now go two sizes larger. There you go, that's about right! It will enjoy being planted in sunny conditions, although ours grew really well in the shade a few years back. The magenta colouring was just less pronounced and the growth rate a bit slower.

It is fantastic in the kitchen, as the young leaves can be eaten raw as a salad leaf but more mature leaves will require cooking. The leaves become tough and leathery at a certain point and the flavour becomes much, much stronger. We eat with our eyes and the Tree Spinach leaves look amazing in a salad bowl.

It is so cool! You need to grow it.

Delivery options explained

 

Pre-order delivery option

From January to March, customers are able to pre-order herbs for delivery later in spring, to ensure that you receive the unusual varieties that you desire. We begin dispatch of pre-orders from late March, once all items in your order are available for dispatch in one delivery, as some varieties will be available a little later in the year than others. You will receive notification when this dispatch takes place along with tracking information but if you would like an estimated delivery date after placing your pre-order, please do not hesitate to contact us.

Order Now delivery option

From late March to autumn, herbs will be available for immediate dispatch subject to their availability. We dispatch our fresh potted herbs Monday-Wednesday each week to avoid postal delays over the weekend. We aim to dispatch all fresh herb orders in less than seven days, i.e. an order placed Thursday-Sunday would likely be dispatched the following Monday. Orders placed Monday-Tuesday, we would aim to dispatch by the Wednesday of that week.

If you have a specific dispatch date that you would like us to aim towards, please do not hesitate to let us know. We can't guarantee a particular date but will strive to do our best for you.

Dispatch information

All orders are dispatched via a next day courier, ensuring that your herbs reach you promptly and in good health. For customers in the Highlands, Channel Islands this is a 48-hour delivery service.

Please note that we do not offer a collection service. Our site is not suitable to receive visitors and this is a rule that we have to apply universally out of respect to our neighbours and family.

 

Packaging


We aim to reuse packaging as much as possible. Your herbs will be delivered in taupe recyclable pots. We are moving over to using plastic blister cell packaging which contains at least 90% recycled content and is itself 100% recyclable. These things are important to you and are important to us.



Customer satisfaction

Occasionally due to circumstances beyond our control, problems can arise. If you are not satisfied in the condition of your plants upon reaching you, please contact us as soon as possible providing pictures so that we can deal with your enquiry and feedback to our courier service. We will endeavour to ensure a resolution is reached that leaves you satisfied.