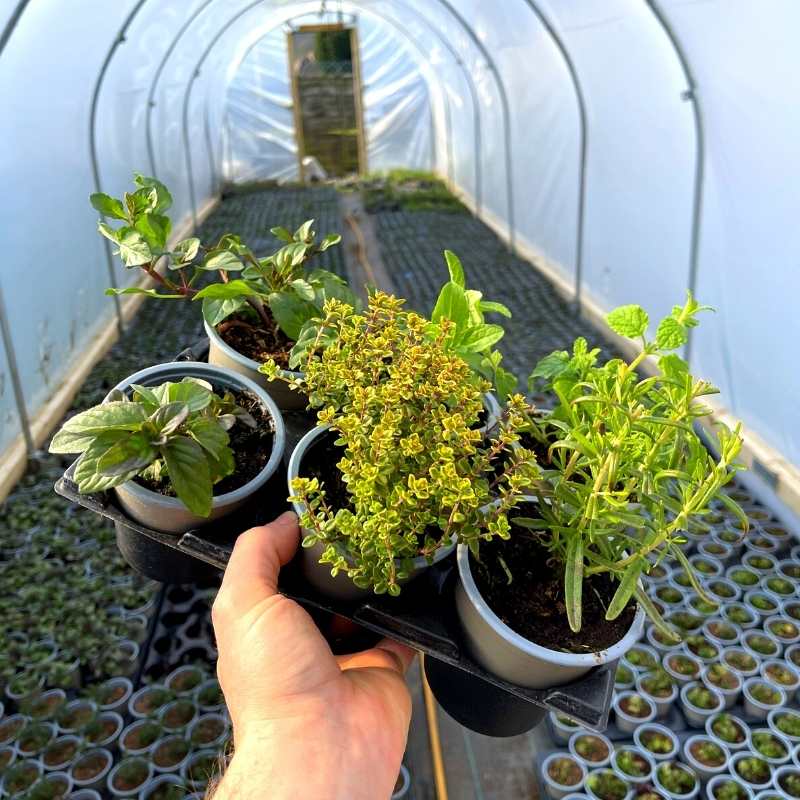 Boozy Herb Collection
Regular price
$24.00
/
Tax included.
Shipping
calculated at checkout.
---


What do you get?
A specially selected collection of six plants - our customers' favourites to use for making cocktails and seasoning drinks.
You guessed it.  This is our best selling collection of 2021, 2020, 2019...and 2018.  It's very popular.
All of the herbs featured within this collection are perfect for growing on the patio ready for those summer cocktail parties.  These plants are so strong in flavour that they will hold their own even when mixed with a strong spirit. 
Did someone say Pimms?  A selection of these herbs were added to the Pimms at Mr and Mrs Urban Herbs' wedding and it was just as amazing as you might imagine.  Perfect as a present for a hen party or summer birthday bash, this is truly a present with a difference.
The flavours you are going to be enjoying:
Lime Mint - if ever a plant was PERFECT for adding to a drink.  The Lime flavour within this foliage is seriously strong.  We combined Lime Mint and Strawberry Mint in the Pimms at our wedding. 
Strawberry Mint - this is a fun and fruity variety of mint that is perfect for adding to a drink or infusing with gin.
Lemon Verbena - a cocktail herb garden classic.  The aroma of this variety will excite your senses as you open the box containing your boozy herb collection.
Rosemary - a staple of the cocktail world, this variety goes really well with a gin and tonic or as a cocktail garnish.
Orange Thyme -  this is such a perfect variety for adding to slowly infuse into a drink.  Perfect with gin.
Pineapple Mint  - another lovely flavour to add to a cocktail as the sweetness of the pineapple really complements so many drinks. The leaves look very pretty too!
 *We update the plants featured within this collection each week based on stock levels. This collection was last updated on 12/07/23.
How big are the plants?
All herbs are supplied in 9cm pots. They will be freshly picked for your order. The condition of the plants is our primary concern when fulfilling your order. The foliage will differ in size throughout the season and may be clipped prior to dispatch. The herbs are not soft grown and have spent time in unheated conditions. They are a product designed not just to last a few days but to be grown on by yourselves and supply flavour for months to come.